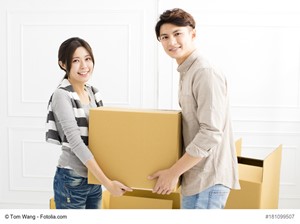 Moving into a brand new California home can be stressful. You have a new place to get used to along with a new neighborhood, new people, and new surroundings. From the time you begin to search for your new home, you can become overwhelmed. Once you have the keys, you want to get settled after the long, arduous process of buying a California home. There are a few essential things that you should do before you start shopping for a sofa or mounting that television to the wall. Read on to find out what should be first on the list when you move into a California home.
See What's There
Once you glance at your boxes and furniture, refer to the list you started with when you moved out of your old place. What did you take? What got junked? What's now damaged or missing? Professional moving companies can be held liable for stolen items or damaged goods from your move, so you need to take inventory of your things as soon as possible.
Unpack Your Things
It's important to unpack all of your things strategically. If you labeled all of your things, then this should be easy. Go and find the most important items like your coffee maker, clothing, towels, and blankets. Ay essentials that you need on a daily basis should be the first to get put away. This way of unpacking is a simple strategy, but it works to keep you organized in your new space and keep you from being overwhelmed.
Don't feel that you need to get all of your unpacking done immediately. Take your time to get things placed where you want them. The more time you take to unpack and be mindful of where you are putting things, the more relaxed your life will be in the house in the long term.
Secure Your New Space
You want your new home to be safe and secure for your family. Check the windows to be sure they lock. Change out the locks on the doors. Inspect your property for any hazards or places where thieves can break in. Next, install an alarm system or have an existing one serviced. Small steps can make a big difference when it comes to the security of your home.
Enjoy!
Finally, it will be time to enjoy and explore your new neighborhood. Take a stroll through the area and see who you meet along your path. Stock up at the local grocery store. Learn your new route to work. Take the kids to the local park and meet more parents. There are so many things that you can do to explore your new surroundings and begin to engage in your new California community once you have settled into your new space.